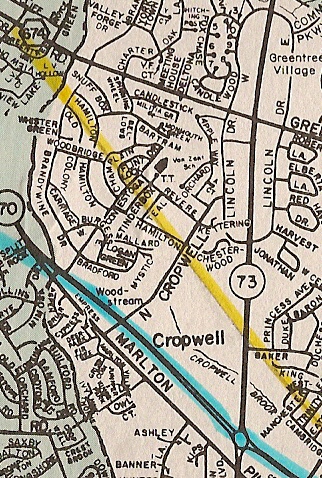 The Railroad That Passed Through Evesham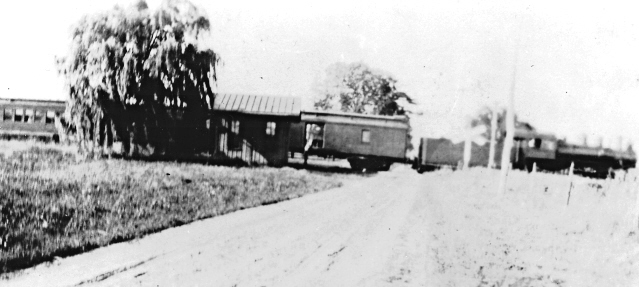 For 50 years, Marlton and Evesham Township had railroad service. Originally planned in 1873 to take a route through the present day Woodstream development (yellow line on map at right), the road bed was built but tracks were never laid on this route. A second route (blue line on map at right) shows the actual location of the rail line where it was built beginning in April, 1880, the year the Philadelphia, Marlton and Medford Railroad Company was incorporated. The line was placed into service in October, 1881, running between Haddonfield and Medford.

  In 1896, the P.M. & M. merged with the Camden & Atlantic, West Jersey Railroad Co. and three other lines and was no loner a seperate operation. With this merger, the tracks of the P.M. & M. became known as the Medford Branch of the West Jersey & Seashore railroad. the W.J. & S. was controlled by Pennsylvania Railroad but operated under its own orginzation until 1930.

  The line ran seven days a week and at its peak made four trips a day and two trips Sundays. The maximum speed was 40 M.P.H.. The tracks were maintained by 26 men who were assigned 5-to-10 mile sections.

   Most of the freight transported by the line was agriculture products, both that grown by local farms and supplies and needs the farmers used. There would be 6 to 8 freight cars on each trip. Marl was shipped on the railroad by the Atlantic Potash Company, which had a siding between the Marlton and Elmwood Road Stations. Other deliveries would be U.S. Mail and building materials. Haddonfield High School students used the line to get to school.

    By the 1920's the need for rail service dwindled with the increased use of motor vechicles. service was reduced to two round trips on weekdays. The last passenger train ran on September 24, 1927. The Medford branch was officially taken out of service on November 2, 1931.

    Later in the 1930's, New Jersey State Highway bought the right of way and built N.J. State Highway Route 40 on the road bed in Evesham and Medford. Route 40 was re-numbered Route 70 during the 1940's.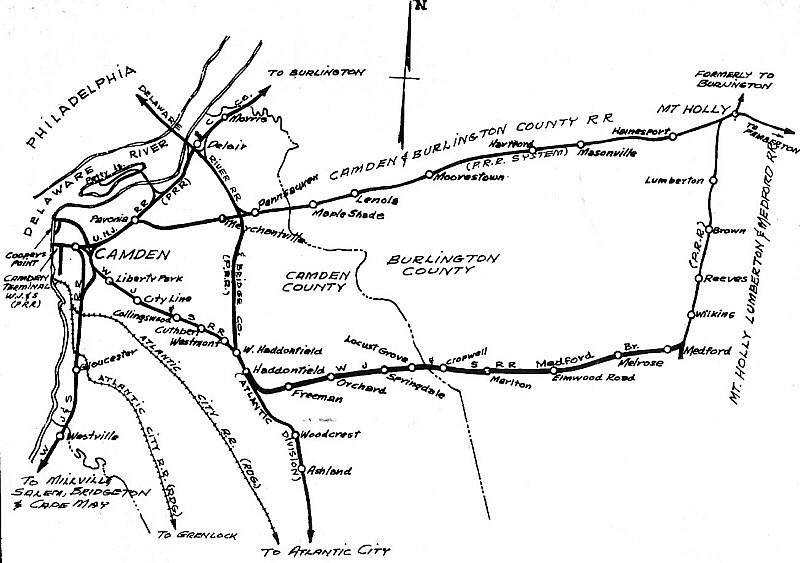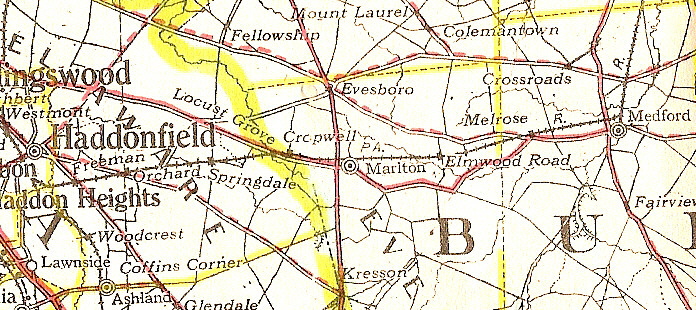 Portion of New Jersey map by National Survey that shows the Medford Branch of the P. M. & M. Railroad with stations (shown with black squares) and roadways.

   Circa 1910 photo of train stopped at Cropwell Station.

Another photo of train at Cropwell Station. Sam Lippincott is shown on the platform.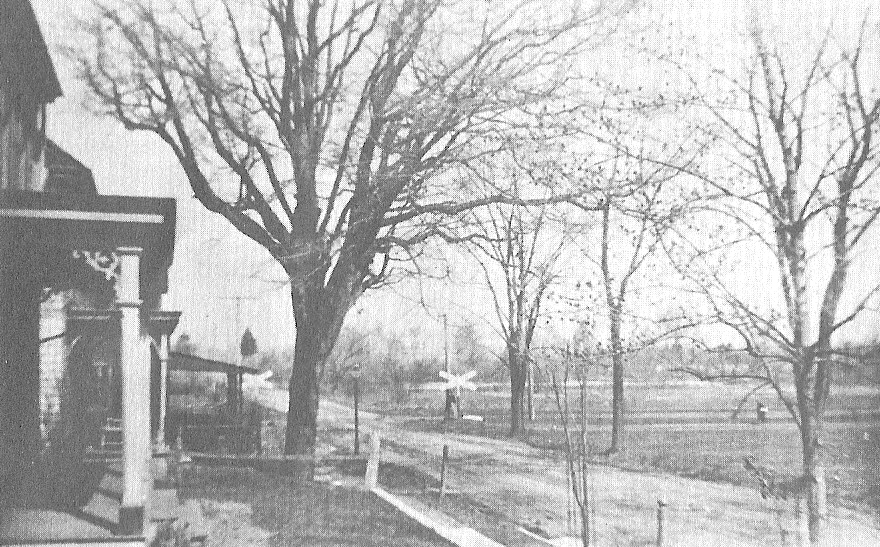 This map shows how the Medford Branch railroad connected with other railroad lines that passed through the area.

Railroad crossing at Maple Avenue in Marlton.

The Marlton Station at Cooper Avenue (then called Station Avenue).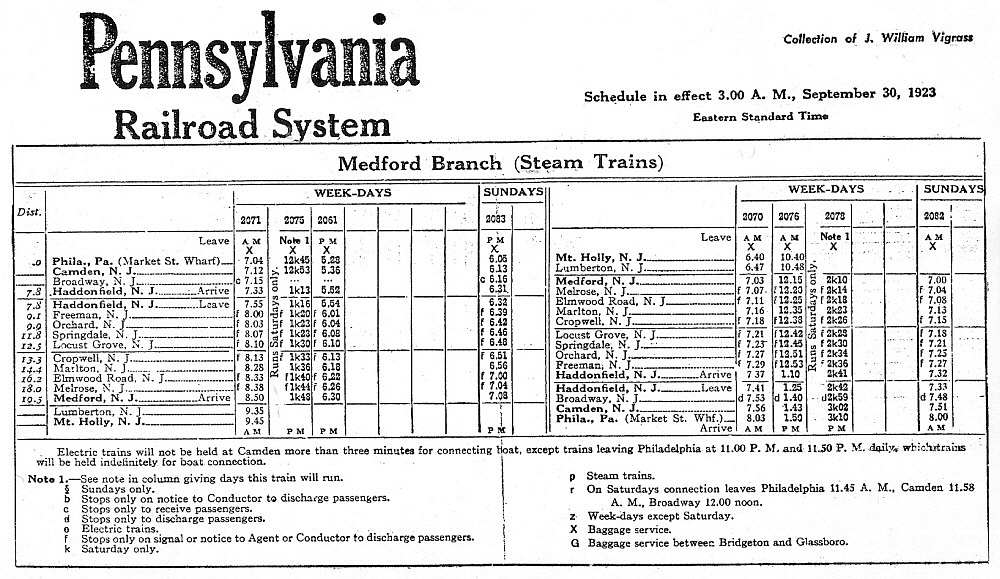 A 1923 Timetable for the Medford Branch railroad.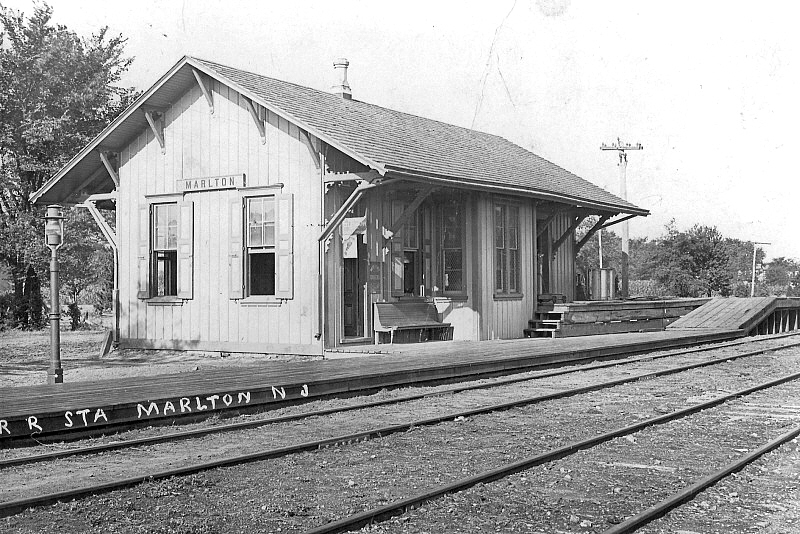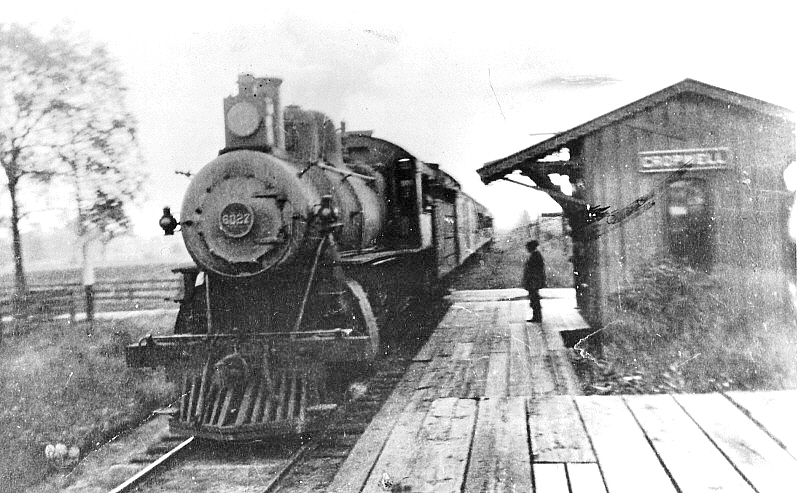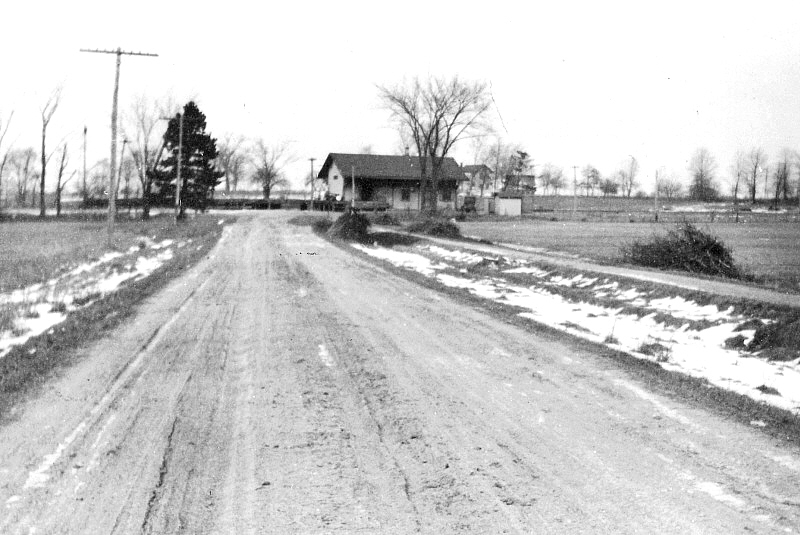 Circa 1920 photo showing Station (Cooper) Avenue approaching Marlton Station.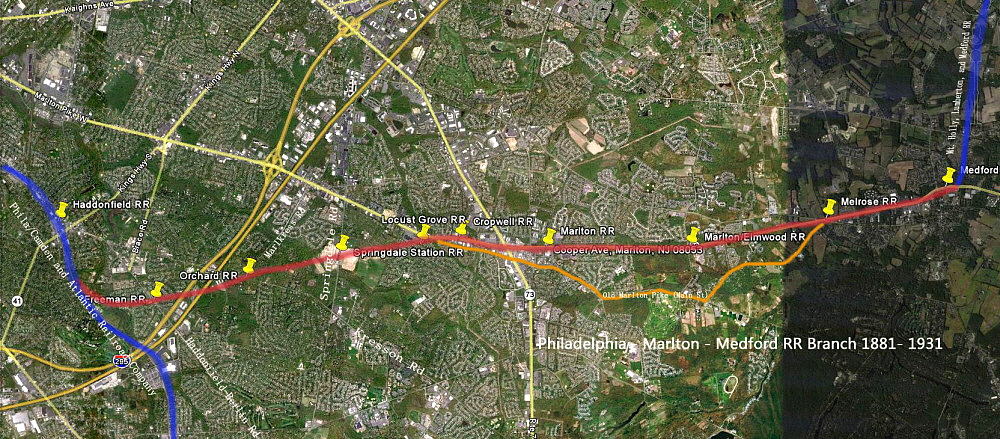 Image courtesy of Jeffrey Greenberg

                                           Image sent in by a visitor to this site showing the locations of the stations along the PM&M